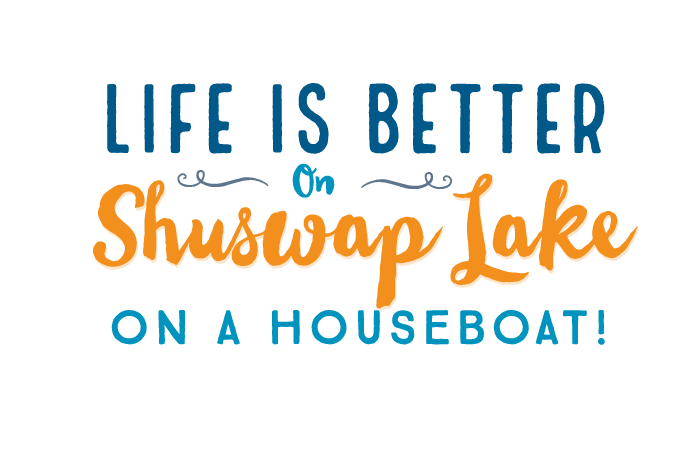 Experience one of British Columbia's legendary adventure vacations on Shuswap Lake. Twin Anchors has been hosting guests since 1977 – that's a long list of happy houseboaters! Get your crew together and start planning your houseboat adventure today – we have boats available from April through to October.
Houseboating is a memorable experience – perfect for small family get-aways, groups up to 24 (invite some really good friends!), weddings and corporate events. Captains of our houseboats need to be 19 years or older, hold a valid driver's licence and do not require a Canadian Pleasurecraft Operating Licence as we provide a complete houseboat orientation prior to each group heading out.

PRE-ORDER YOUR FIREWOOD & ICE!
Did you know you can pre-order your firewood and ice? We will deliver it to your houseboat once you arrive!
Firewood: $14/box
Ice: $3.75/bag or $20/6 bags
To order call the Twin Anchors Crew at 1-800-663-4026 or 250-836-2450.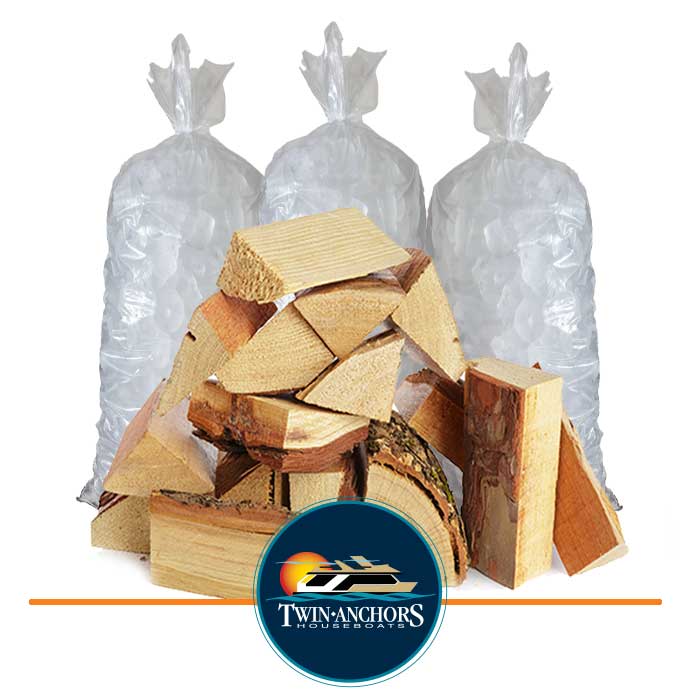 You'll find a luxurious houseboat for every group and every budget at Twin Anchors! And YES! Every one of them has a slide! And every houseboat (except the Cruiser) has a hot tub and a fireplace.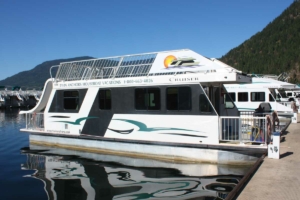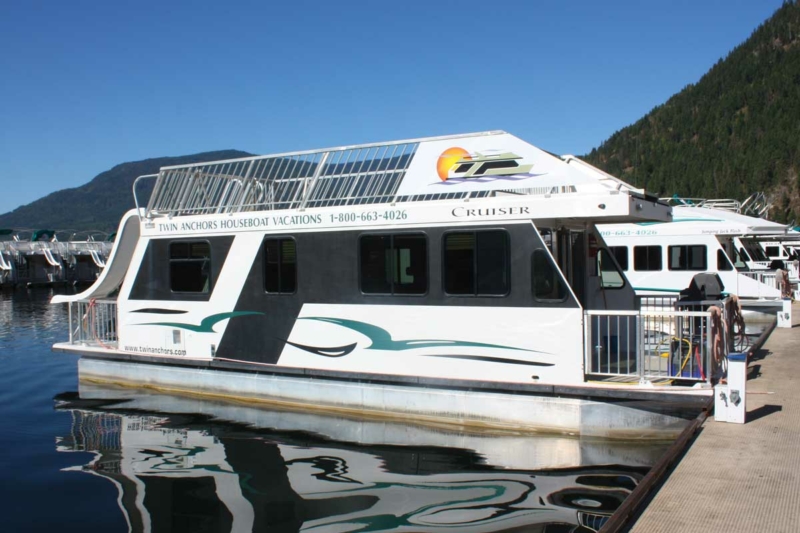 SLEEPS UP TO 6 PEOPLE.
IDEAL FOR A COUPLE
OR SMALL FAMILY.
10′ x 35′ – APPROX. 350 sq. ft.
Simple is wonderful! The Cruiser is ideal for a family or couple wanting a comfortable little houseboat to explore the lake with. This economical houseboat has a 8 cu.ft. fridge, 3 burner stove, oven, microwave and solar panels to assist in charging the cabin batteries.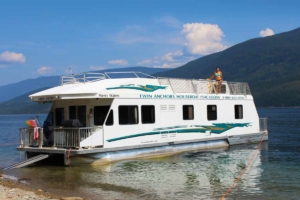 SLEEPS UP TO 15 PEOPLE
IDEAL FOR 3 COUPLES OR 2 FAMILIES.
14'6″ x 56′ – APPROX. 1,624 sq. ft.
A classic houseboat! The CruiseCraft 1 is ideal for those wanting all the comforts of home to explore Shuswap Lake  – while keeping vacation costs on budget! Appliances incl. two 8 cu.ft. fridges, range and microwave. The loft area is a favourite spot for kids!
SLEEPS UP TO 15 PEOPLE
IDEAL FOR 3 COUPLES OR 2 FAMILIES.
14'6″ x 60′ – APPROX. 1,700 sq. ft.
All you need and more! The CruiseCraft 2 has a few more comfort options from the CruiseCraft 1 – including a deluxe wet bar and bimini top on the top deck; and a clothes dryer. Appliances incl. two 8 cu. ft. fridges, range, microwave, dishwasher and clothes dryer.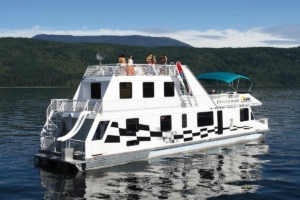 SLEEPS UP TO 22 PEOPLE.
IDEAL FOR 6 COUPLES OR 4 FAMILIES.
16′ x 70′ – APPROX. 2,200 sq. ft.
Packing a large crew? The CruiseCraft 3 is outfitted with luxurious amenities for your Shuswap Lake houseboat adventure. Onboard appliances incl. 25 cu.ft. fridge/freezer, range, microwave, dishwasher, stacked washer/dryer and air conditioning in the salon.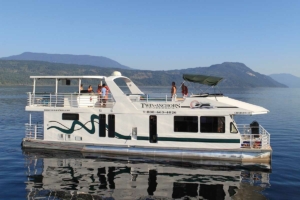 SLEEPS UP TO 14 PEOPLE.
IDEAL FOR 3 COUPLES OR 2 FAMILIES.
16′ x 60′ – APPROX. 1,900 sq. ft.
Luxurious comforts! The CruiseCraft 4 is the choice for people wanting luxury on a comfortably size houseboat. Onboard you'll find stainless steel appliances incl. 25 cu.ft. fridge/freezer, range, microwave, dishwasher, trash compactor, and deluxe entertaining areas.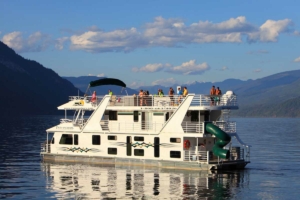 SLEEPS UP TO 24 PEOPLE.
IDEAL FOR 9 COUPLES OR 5 FAMILIES.
17′ x 75′ – APPROX. 3,900 sq. ft.
A whole lotta boat! The CruiseCraft 5 is designed to be the ultimate floating resort. Find 3 levels of entertaining areas – all of them equipped to the max! Everyone loves the extra large galley and extended island. The Texas Deck is the ultimate "go to" space!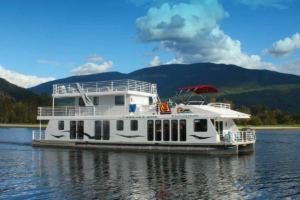 SLEEPS UP TO 16 PEOPLE.
VERY COMFORTABLE FOR 3-4 FAMILIES.
18′ x 75′ – APPROX. 3,200 sq. ft.
Super popular and spacious! At 18 feet wide, The CruiseCraft 6 is the most spacious boat in the fleet – has 3 decks for entertaining and 5.5 bathrooms! Vaulted galley with fridge/freezer, range, microwave, dishwasher, wine cooler; and cozy fireplace/entertainment corner.
WHAT TO CHOOSE?
There you have it! All the boats in our houseboat fleet! Not sure which one is the best choice for you? Check out each of the houseboat pages, rates and comparison chart. If you still have questions – then give us a call and we can answer any question you may have and perhaps recommend the our choice for your group.

READY TO BOOK A HOUSEBOAT VACATION?
Depending on the model of houseboat and timeframe you want (CruiseCraft 5 & 6 houseboats and long weekends book out a year in advance); so we recommend you book at least 6 months in advance. Need a commitment from family and friends? We will hold a boat for up to 10 days before your reservation deposit is required.
To confirm your reservation on a Cruiser, CruiseCraft 1, 2, 3 and 4 houseboats, a deposit of $500 is required. The CruiseCraft 5 & 6 require an initial deposit of $1500. Your deposit is applied to the charter fee and can be paid by credit card or money order.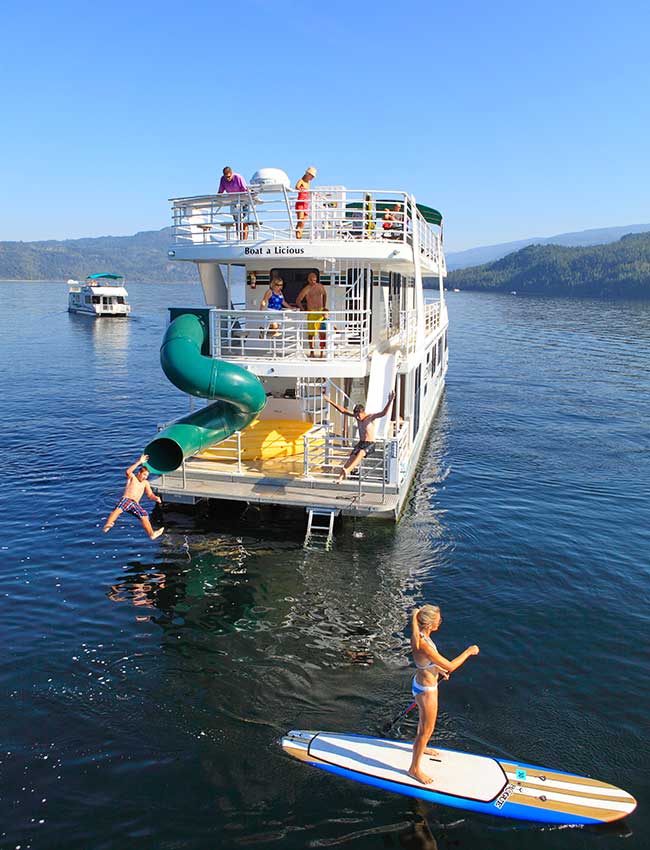 British Columbia is committed to keeping our lakes pristine, Quagga and Zebra Mussel free.
Please respect our lakes and boarder crossing patrols and STOP at the BC boat inspection stations.